I was delighted to find the Hougue Bie burial chamber on what is now called 'Jersey'. It reminded me of the Maeshowe one on what is now called 'Orkney' in what is now called 'Scotland' that I'd seen on television. Maeshowe is another fine example of early greenYgrey architecture:
Reading about it again on the orkneyjar website I saw that it is different to Hougue Bie in that its alignment is for the midwinter sunrise to reach its back wall, similar to Newgrange in what is now known as 'Ireland', with Hougue Bie said to be structured for the equinoxes.
British and European Burial Chambers and Artwork
Britain's stone circles and burial chambers date from about 6,000 years ago; before the great pyramids of Egypt, and thousands of years before 'monotheism' emerged in the Middle-East, and God and Devil, Heaven and Hell, took the place of reverence for nature and the cosmos.
Although that seems a long time ago, it is quite 'recent' compared to artwork, with cave paintings in modern Europe dated to 30,000 – 32,000 years ago.
That's right, 30,000 years before Christ was born and the Romans invaded 'Britain'; that's 15 times the amount of time we've got any written recorded history for northern Europe, and 30 times modern history started in Britain after the Norman invasion; our ancestors were creating artwork like this:
Cave painting found in Indonesia dating to 35,000 – 40,000 years ago are now thought to be the oldest found:
Above knowledge refreshed on Wikipedia.
African Burial Chamber Million Years Old
Funnily enough, I watched a documentary this week about what is thought to be the oldest burial chamber yet found; that doesn't mean it's the oldest, just the oldest found. There's an article about it on BBC news.
It's deep underground in modern 'South Africa', and needed thin archaeologists to access it and recover the remains of fifteen of our ancestors. It resulted in a team of intrepid non-claustrophobic researchers, backed by greenYgrey: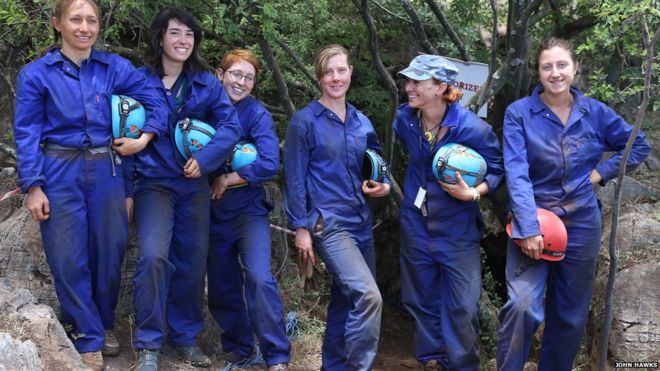 They've been dated to a million years old; yes, that's right, 1,000,000 years compared to the 2,000 since Christianity, 500,000 times as much human life we know very little about as that we do; except that if our ancestors were conducting ritual burial at the start of it, then there is likely to have been a lot of 'culture' and 'cosmology' going on long before the cave paintings of 30,000 – 40,000 years ago, and the stone circles and burial chambers of 6,000 years ago.
One of the XaW Files subtitle Beyond Humanity's meanings is this knowledge beyond humanity, either in the past or the distance of space for the human species, and the mind for individual humans.
Living in a narrow band of troposhere atmosphere on a planet circling a star that is one of billions in our Milky Way galaxy; a galaxy that is one of billions in the known universe (which may be one of many, millions or billions?)…
… which sometimes looks greenygrey/gYgPOP…
… in a very short period of recorded history, compared to how long we've been walking the Earth and looking to the stars, we try and make sense of our place in existence.
We even make it hard for ourselves by shutting down knowledge because it doesn't fit in with 'beliefs', or cloud history by raising religious, geographical or cultural bias over scientific paradigms and investigative research.